Trust Cradle
Last Mile Enabler for the Persons with Disabilities!
Trust Cradle (The Centre for Rehabilitation and Advancement of Disables) is a non-profit organization and aims for wellbeing, welfare and empowerment of Persons with Disabilities (PwDs). Founded in 2006 in Delhi as Public Charitable Trust, it has been bringing equal opportunities and economic rehabilitation to People with Disabilities through skill development, employment and dignified livelihood. We firmly believe that disability is not an attribute of the person, but results from the inter¬action between persons with impairments and social and environmental barriers that hinder their full and effective participation on equal basis. Hence, we endeavour to transform societal understanding to believe that the People with Disabilities are equally capable and productive, and we work towards removing the barriers (social or physical) for their well-being, growth and full participation.
Across the world, PwDs have poorer health conditions, lower educational standards, less economic participation and higher rates of poverty than people without disabilities. India has 180 Million persons with disabilities; 90 million of them have no employment and 60 million sleep hungry, 18 million cannot afford treatment, and majority of them have high mortality. They are poorest among poor and deprived to enjoy full participation whether it is education, employment or social interaction.
To achieve better development goals as enshrined in SDGs and beyond, we follow the truism "nothing empowers better than employment", and focuses primarily on skill development and capacity building among PwDs, and assist them in gaining employment, in addition to other services in the field of education and social rehabilitation. In our endeavour to improve accessibility and equality of opportunity, participation and inclusion, and autonomy and dignity of persons with disabilities, we strive for:
Mainstreaming understanding, definition and measurement of disability, rehabilitation and national development;
Invoking empowerment, human rights and dignity, equal opportunities and enabling environment for inclusive growth and development;
Ensuring access to mainstream health services, therapies, assistive devices and economic rehabilitation measures;
Exploring support and assistance services for removing all kinds of barriers: social, physical or virtual, and for inclusive environments;
Ensuring quality education, skill development and dignified employment among PwDs; and
Integrating people with disabilities and DPOs with Government Schemes.
To create a right perspective on disability and rehabilitation, Trust Cradle undertakes policy dialogues amongst stakeholders-policy-makers, institutions, corporates, researchers, academics, development agencies, and civil societies and disabled people's organizations- to create enabling environments, develop rehabilitation and support services, ensure adequate social protection, create inclusive policies and programmes, and enforce new and existing standards and legislation, to the benefit of people with disabilities and the wider community. As grassroot NGO, we constantly undertake to bridge the gap between policy makers and the PWDs communities, and integrate them with national or state government schemes.
In our endeavour to achieve international standards in awareness, health & education services, skill development and employment among the persons with disabilities, the organization has accomplished many projects of WHO (World Health Organization) and UN (United Nations) Agencies on advocacy, capacity building, assistive technology and rehabilitation.
Our driving vision is to have an inclusive world where people with disabilities may be able to live a life of health, com¬fort, and dignity.
A little concern may change million lives forever.
Vision
Trust Cradle envisions to create an inclusive world for the persons with disabilities, having equal opportunities, barrier-free environment, and easy access to health services and assistive technology, and endeavours to improve their education, skill and employment for their dignified livelihood and social participation.
Mission
Making People (Society, Bureaucracy and Corporate) understand abilities of PwDs!
Enabling Persons with Disabilities (PwDs) have a dignified livelihood!
Integrating PwDs with Government Schemes as Last Mile Connect!
Promoting Assistive Technology as Cost-Effective Tools for Rehabilitation!
Ensuring every building, transport, workplace or space be accessible to PwDs!
Transforming Civil Society Organizations (DPOs/NGOs) be an effective Change Makers!
Preposition
To strengthen CSOs' working, we pursue three-pronged strategies:
Developing tools, models, and processes for effective philanthropy. We develop tools, processes, models, and practices to bring trust and accountability in funding mechanisms, which include process to evaluate NGOs' worthiness, financial models for donations, tools for funds utilization, effective monitoring, and social impact.

Capacity Building of Civil Society Organizations.We help social-sector organizations and individual philanthropists to build their capacity, strategies, roadmaps and operating models to achieve their vision and deliver better. We also evaluate their competence, assets & liabilities, and work ethics, and accredit them to showcase their trustworthiness.

Advancing Donors-CSOs engagement.We work with donors- philanthropists organisations/individuals, corporate houses or state agencies- to define and improve their strategies and methodology for philanthropic commitments, their monitoring and outcome appraisal to secure greater impact on intended goals. We design tools and processes for corporates, organizations and institutions and help them to better align their philanthropic approaches with their business strategies and capabilities.
Our Endeavours
Trust Cradle interacts and engage with CSOs and donors through information sharing, policy dialogues, strategic consultations, operational collaborations, and institutional partnerships.
Engaging Donors with Non-profits: Refining tools and practices of philanthropy for sustainable philanthropy and donors-NGOs engagements.

Operational Collaboration: Facilitating donors-CSOs operational collaboration through process of evaluation, accreditation, and dashboard monitoring.

Arranging Joint Advocacy: Arranging meaningful collaborations for Donors and CSOs to mobilize action on development processes through joint advocacy.

Sharing Information: Educating CSOs by information sharing on donors' report, schemes and priorities, and opportunities for engagement with international agencies, donors, or philanthropic organizations.

Dialogue and Consultation: Creating platforms and forums for stakeholders' dialogue and consultations among policy makers and CSOs for policy modulation, and exchange of ground realities and communities' expectations.

Partnerships: Partnering CSOs and donors through mechanism ranging from capacity building, due-diligence, programme monitoring and assessment of outcomes, including watchdog roles.

Policy Research: Undertaking policy research and formulation through its network of NGOs, surveys and collection are organized for
Our Credentials
Trust Cradle is a registered NGO and is affiliated to various national and international institutions for its laudable activities. For benefits of all, here are the credentials of the organisation:
Short Name: Trust Cradle

Full Name: The Centre for Rehabilitation and Advancement of Disables

Registered as: Public Charitable Trust, under Indian Trust Act 1882

Regn No. 51225122 dated 29.05.2006 read with 1105/dt 29.11.2013 and 834/dt 23.01.2015, Sub-Registrar-V, New Delhi

PAN No. AABTT5278N

Registered U/S 12AA, r/w12A of Income Tax Act 1961, vide No. CIT (E) I 2014-15 DEL TR24228-12022015 / 4326, Commissioner of Income Tax (E), Delhi.

Registered U/S 80G (5)(vi) of Income Tax Act, 1961, vide No. CIT (E) I 2014-15 DEL TE25846-12022015 / 6034, Commissioner of Income Tax (E), Delhi.

Registered under FCRA (Foreign Contribution Registration Act, 2010), vide Regn No. 231661614, Min of Home Affairs, GOI.

Certified ISO 9001: 2008 (Quality Management System), vide Certificate No. 21502081520 / dt 8th Feb 2015.

Life Member of GCNI (Global Compact Network India), vide letter dt 25.02.2015
Our History & Journey
The origin of cradle lies in the aftermath of Lathur (India) Earthquake, 1993, where thousands of lives perished and many more became disabled forever. As concerned citizen, a group of volunteers visited the place to assist the victims and NGOs working for the mitigation of the effect of disaster. During the endeavour, it was felt that programmes and policies of government did not reach to the victims. The disabled wandered to get assistance for rehabilitation for months and years. It was also felt that there is no dearth of benevolent programmes and policies on part of government, but there are numerous lacunas in their implementation and execution due to authorities' apathy, misgivings and inaccessibility. On part of victims and community, lack of information, awareness, and accessibility to the government's programmes, policies and officials is also a serious handicap in getting the desired results. As committed social worker, the efforts continued at individual level to bring the remedial measures of government to the door-steps of victims.
This social initiative got further impetus during Tsunami 2004 at Andaman and Nicobar Islands, which devastated inhabitations living thousands injured, dead or disabled. While working in official capacity as nodal officer disaster management, Dr Bipin B Choudhary, founder & president, Trust Cradle, had come across a situation where the short term rehabilitation measures did take good care of injured, but disabled lot were left behind at their own fate for want of long term rehabilitative programmes.
And thus, Trust Cradle came into existence. A group of bureaucrats got Trust Cradle registered as a Public Charitable Trust in 2006, with a motive to be a bridge between policy makers and the victim community. Since then, the group has been constantly working for the rehabilitation of persons with disabilities, to which added later on the welfare of elders who are equally neglected community.
Our Matrix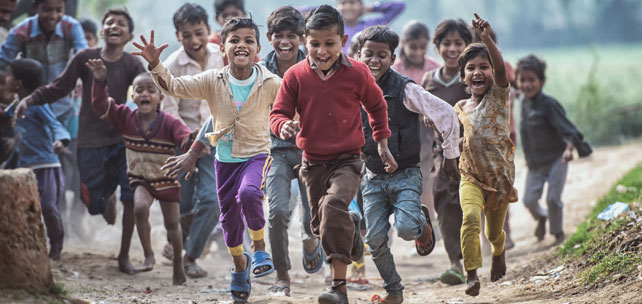 Our driving vision is to have an inclusive world where people with disabilities may be able to live a life of health, comfort, and dignity.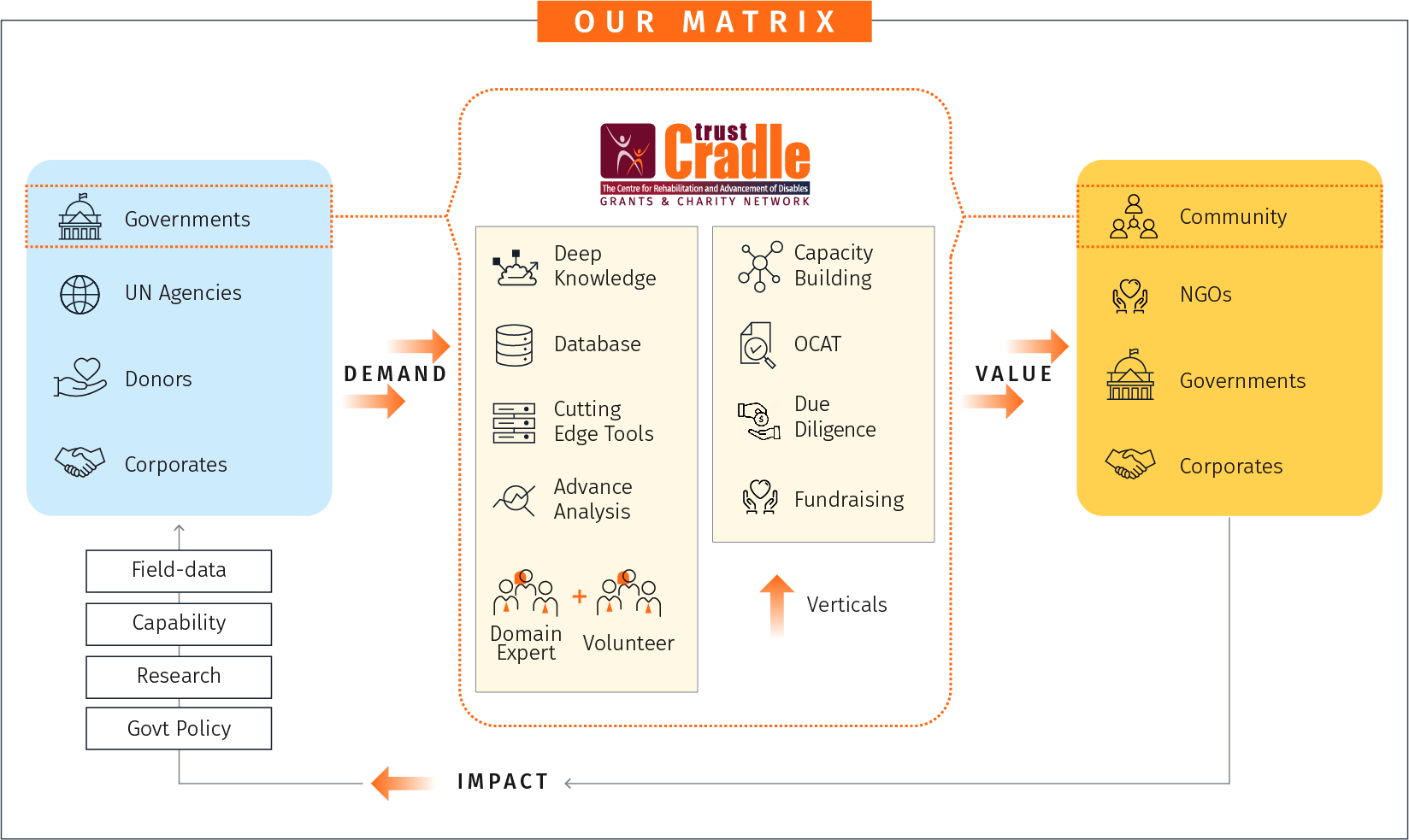 Advisory Board
Every industry needs the guidance of experts that can help them to flourish and achieve their vision by enlightening them with the correct path. Our Advisory Board is endowed with some truly remarkable persons having rare knowledge achieved through years of experience, research and having internalized the discipline that they come from.
Dr Bipin B Choudhary
Dr Sanjana Sinha
Dr Arun Bhatt
Mr S.B. Singh
Mr R.N. Singh
Dr Methu Vergis
Mr Jatinder Pal Singh
Mr Deepak Dwivedi
Trust Cradle Team
With Experience in Various Sectors, We Have Got a Well-Seasoned Team With Us!
Deepak Singh
Sr Manager (IT & Comm.)
Ruchika Sharma
Sr Project Manager
Aryan Bhatt
Sr Project Manager
Menal Mathur
PR and Media Manager
Hemlata
Data Research Manager
Vanshika Sharma
Account Executive & Admin
Shubham Shukla
Data Research Analyst
Karmvir Singh
Data Research Analyst
Anuj Kumar
Junior Web Designer